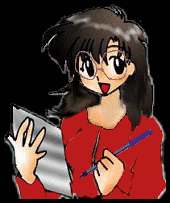 This is a mirror page for Pia's Ranma stories. She has her own site on the web called Pia-san's Hiding Place.
---
Pia's take on how Ranma and Akane finally resolve their differences, and tie up some of the loose ends. (WAFF) Ranma ½.
---
What if Saotome and Tendo families didn't know each other, and Ranma and Akane didn't meet until late in high school? An alternate universe story. O.O.C. warning: The characters are not canon, and weren't intended to be. (WAFF) Ranma ½.