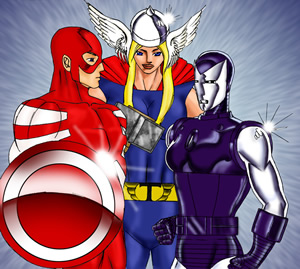 What if the Ranma ½ characters inherited the powers of different Marvel superheroes? Alternate Universe story. (Adventure)
Here is the first piece of fan art for Avenging! Captain Japan, Thor, and the Iron Rose by Arthur Hansen. Click on it for a look at the full-size image.
Avenging
a Ranma ½ story by DB Sommer
Act I:
Scene 2: Three Beauties and a Beast
Scene 4: The Masks We Don't Really Have to Wear
Scene 5: Thor and Raiden Present: Lessons on Why It's Bad to Play With Electricity
Scene 7: Honey, I Shrunk Kasumi
Scene 8: Ten Rings to Rule Them All, Part 1
Scene 9: Ten Rings to Rule Them All, Part 2
Scene 10: Ten Rings to Rule Them All, Part 3
Scene 11: Ten Rings to Rule Them All, Part 4
---
Act II:
Scene 1: Revenge of the Killer Hornet
Scene 3: Guess What's For Dinner
Scene 5: Steel Lilies in the Field
Scene 6: Not So Startling Revelations
Scene 7: Hercules: Prince of Power (Not a Sam Raimi Production)
Scene 8: Dating Professional Wrestlers is Like Porcupines Mating
Scene 9: The Lesson of the Serpents (Strength in Numbers)
---
'Avenging' Side stories
Side Story 2: Let the Games Begin!
Side Story 3: Armored Schemes (and Stranger Things)
---
"Avenging" Spin-off Story
The timestream has gone awry, and the Sailor Scouts have not met and bonded as they were fated. Instead, Ami Mizuno has another destiny before her… (Adventure) Sailor Moon / Avenging.
Story notes: This is not written by DB Sommer, but rather by Christopher Horton. While the story takes place in the Avenging universe, it's also a stand-alone work and you really don't need to have read the previous Avenging stories to enjoy it.
The Amazing Spider-Girl A story by Christopher Horton