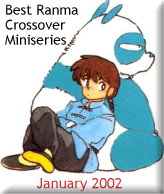 Ranma's training journey allowed him to meet people all over Japan, but there was one that meant more to him than most… (Adventure) Ranma ½ / Project A-ko crossover.
Rursus Iterum won first place in the crossover miniseries category at the Best of Ranma ½ Fan Fiction awards for the month of January, 2002.
Chapter 1: Stones on the Precipice
Chapter Two: Breaking Free and Falling Fast
Chapter Three: Strike! Sink or Swim?